Products We Offer – Basket Carts
---
Shopping Basket Carts for Stores
Want the lightweight convenience of retail baskets coupled with the enhanced mobility of a shopping carriage? Try Good L Corp's basket carts. We combine our innovative carrier and cart designs for a sleek and efficient hybrid product that supports both store and consumer needs throughout every shopping event.
Brand Promotion
Good L Corp patented basket designs stack taller to showcase your brand's full logo at all times, even when nested.
Color Match
Our baskets come in a multitude of colors to command attention and support your brand palette. Pick the best shade for your company and Good L Corp will emboss with your headers and logo for a 100% color match.
Increased Visibility
Good L Corp carriers nest together in 4-foot high stacks for increased, eye-catching visibility that encourages more impulse sales.
Pinpoint Sales Trends
Our aisle stacks help identify and track sales patterns to better support customer demand and convenience.
Shopping Basket Carts for Stores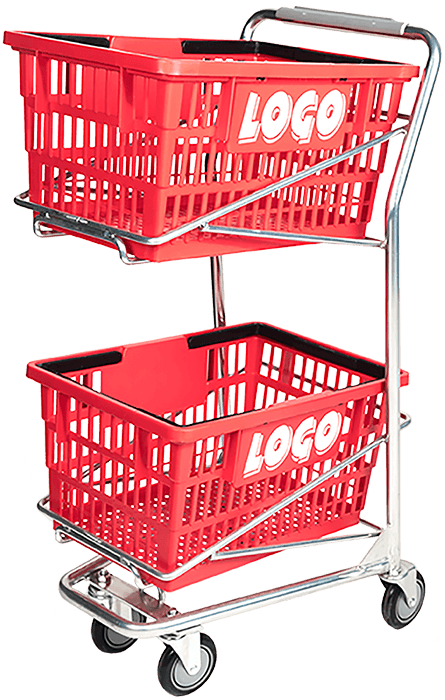 Big and Standard Basket Carts
Sometimes shopping calls for a device larger than a basket but smaller than a shopping cart. The basket cart is the perfect solution for stores with narrow aisles, heavy products, and frustrated customers.
Learn More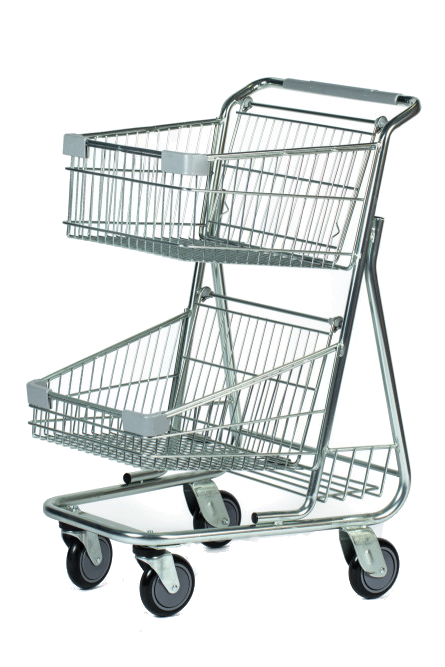 Zinc Double Metal Carts
Zinc double metal carts are easy to navigate and can comfortably hold anything the average shopper needs. Learn how to have these durable carts in your store with a free quote today.
Learn More
Why Choose Colored Shopping Baskets
We want to make sure that you're getting shopping baskets that align with the brand of your business. Something as simple as the color you choose can make your store stand out to those who shop there. Be sure to order baskets in a color that works for your business. In addition to this, put your logo on our baskets to create additional brand recognition.
Order Good L Corporation Baskets for Your Business Today
Why wait to improve your business in such a simple way? By ordering customized baskets for your store, you'll be helping customers and yourself. With 6 different styles, and many colors to choose from, start planning your basket order from Good L Corporation. You'll see firsthand what high-quality baskets can do for your business.
Contact Us For A Free Product Quote
Good L Corporation delivers innovative shopping cart and basket solutions for retailers on a global scale. From a fleet of new custom carts to launch your store opening to replacement baskets that supplement your existing shop supply, Good L Corp can configure the right carryall strategy to boost your retail business. Let's get started! Contact us today for a no-pressure sales quote.